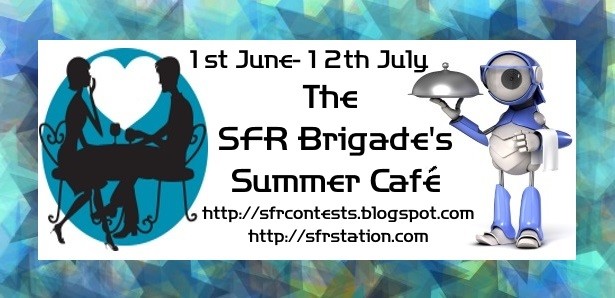 Space Opera!
Over-the-top settings, costumes, and adventures are on the menu! If you're wondering where the lady with the Viking hat is, she's on a spaceship! Welcome to Week One of the Science Fiction Romance Brigade's Summer Cafe. If you're new to the genre, this is your map to the stars!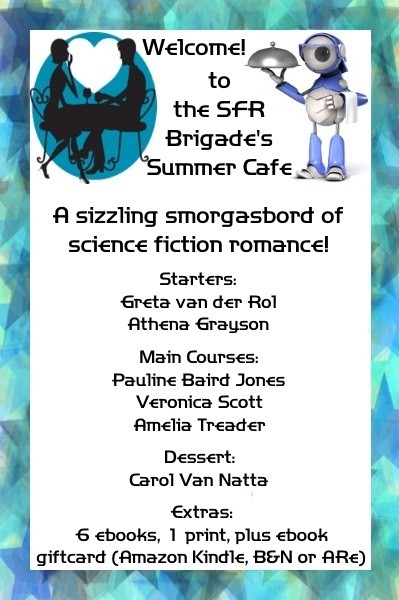 When I wrote "Huntress of the Star Empire," I knew it was space opera all the way. What characterizes a space opera dish is that the technology or advancement of civilization acts as a seasoning to the staple ingredients of interpersonal conflicts of the characters. In the "Huntress" series, I wanted to explore issues of identity, security versus liberty, and the effect fear has on our behavior. But I couldn't do so in a contemporary setting without lugging a LOT of cultural baggage from both inside and out.
Now, I'm no stranger to the "harder" SF–galactic epics spanning tens of thousands of years (and light-years), or stories where the technology itself is the principal "character," so to speak. But the stories that stick with me also have characters who compel me to let them into my heart.
Opera Creams
Since our blog hop is a foodie-themed one, what's a trip to the opera without Opera Creams? Opera creams are bite-sized balls of silky-sweet decadent cream covered in chocolate. They first appeared in the US right here in my town of Cincinnati, via a family of German immigrants, the Bissingers, who made them for the Cincinnati Opera at Music Hall, who provided them to their opera patrons during intermission. Other Cincinnati confectioneries, many located around Music Hall or across the river in Kentucky, crafted similar recipes, and the whole town goes crazy over opera creams. Putnam's, Esther Price, and Papa's & Son Candies now fill stores with the iconic sweet every Easter.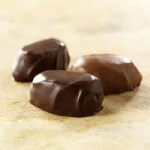 Opera Cream Recipe from "Lee's Priceless Recipes" 1895:

"Two pounds white sugar, 3/4 pint cow's cream; boil to a soft ball, set off; add 2 ounces glucose; set on; stir easy until it commences to boil, then pour out; let get 3/4 cold and stir it until it turns into a cream; then work into it 2 tablespoons vanilla; line a pan with waxed paper, flatten the batch in it, and mark it in squares. Set aside 2 hours to harden." (found via several blog-hops leading to Homemade Dessert Recipes)
For a more modern take on the recipe, here it is at Food.com.
Fictional Food!
Speaking of food, when you've got your hands full with a man who could pull your deepest secrets right out of your mind, the last thing you want is something sweet and decadent reminding you of how sexy he is when he's your bounty, not your boyfriend. Treska's been trained to believe psypaths like Micah are monsters, but their interplanetary journey is just beginning to show her his very human–and very desirable–side in this excerpt from "Huntress" Episode 3: Tailspin.
Episode 3: Tailspin – On the run from space pirates

"You tried to use your mindsnake powers on me! You would have attacked me with your mind!" The refuge she found in anger felt a bit too thin.

"I would have defended myself against someone I believed was attempting to eviscerate me." He drew himself up as best as he could within the confines of the manacles. "There's a slight but significant difference of perspective, wouldn't you say?"

"I was just—" Cutting your clothes off to see what you look like underneath them. "I thought this was a Jump-dream." She was interrupted from further conversation—argument—by a loud growl coming from his midsection.

A slight flush stained his cheeks. He raised an eyebrow at her scrutiny. "Even a mindsnake has to eat," he said, with as much of a shrug as the cuffs would allow. "You insist you don't torture. Do you starve?"

"No," she said curtly, crossing to the galley cabinets. As a multi-purpose area, the cargo hold also functioned as a galley, complete with a small cryo-unit, reconstitutor, and heating unit, all hidden within access panels along the short wall which folded out to create a worktable. "At least, not technically."

She pulled nutrient cubes from the cryo and popped them into the reconstitutor. For all the good that did. They emerged looking much as they did before, only slightly larger. Heating didn't help, either. Now they simply sat in the heater slot, steaming slightly. "It's food."

"The very fact that you have to identify it as such doesn't bespeak much to its value." His tone was as flat as the cubes were sure to taste, even reconstituted and hot.

"They have all the nutrients required for a human or near-human body to survive a full diurnal cycle."

"So does the swamp sludge on Ligelis Six, but they're not exporting it on purpose."

It was a little unsettling to think of him as having a sense of humor. It made it a lot more difficult to reconcile the cuffed man before her—whose slender build, she realized, likely came just as much from malnourishment as it did genetics—with the nightmare bogeymen his kind were known to be.

Psypaths made slaves of ordinary folk. Their telepathic traits allowed them unfettered access to your mind. They could steal your innermost thoughts, your will, and even the control over your body if they so desired. Unless you had a neuro-collar and heavy-duty tranks.

"These won't gum up your ship's hydraulics." She peered down at the quivering cubes. "At least, I don't think so. And they smell better than Ligellian swamp sludge." She looked up, reminding herself that he was her prisoner, but she didn't have to feed him. All she had to do was deliver him, alive, to the government center on Capitol. They never specified what condition he had to be in.
Rafflecopter says g'head and win something!
a Rafflecopter giveaway
InLinkz is a little script that helps you find your way to the next blog on the tour.
Keep hopping, readers! There's more on the menu this week, and all summer long as our theme weeks cycle through the many flavors of Sci-Fi Romance!