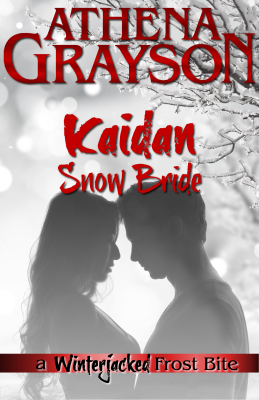 A mountain snowstorm forces a wounded soldier to find shelter in Yukiko's remote ryokan. The snow witch can only have him for a single night, but the foreigner thaws her icy heart so completely that she will defy a thousand years of tradition to become not only his bride, but his wife.
About the Book
This WinterJacked Frost Bite is available exclusively in Spirits of the Season: Eight Haunting Holiday Romances, only on Amazon Kindle!
He went looking for ghost stories. She IS a ghost story. And she's captured his heart.
Readers of the WinterJacked Cycle and fans of otherworldly romance will enjoy this moody, haunting origin story that takes place in 1969 Japan.
Before the draft, Spencer spent his life studying folk tales, and Uncle Sam put him to work using that knowledge to scare the enemy in the jungles of Vietnam. But when an injury takes him out of combat, hospital healing isn't enough to exorcise the ghosts that haunt his dreams.
A mountain snowstorm brings hapless travelers to her inn, but Yukiko is no ordinary hostess. The American soldier can only be hers for one night, but her heart wants more. The snow bride must break her curse if she hopes to become not only a bride, but his wife.
Other Books in "WinterJacked"