Strange Magics
When Strange Magics are afoot, they change minds, hearts, and the world
When Niamne is tricked into delivering the yearly Tithe to the Dread Lord, she never expects to be part of the sacrifice. The last necromancer is a creature of terrifying legend, but the reality is more compelling than frightening, and very much a man.
Orphios finds better company with the dead than the living. One week of the year he takes the Tithe of goods and treasure and...other things...that keep the dead from rising from their rest. A sharp-tongued acolyte with a holy blessing that clashes with his magic was not part of the deal.
When the dead reject the Tithe, the ancient magical contract fractures. Niamne must choose--fulfill the contract and bring down the curse of her goddess on Orphios, or break it and unleash the restless dead on the world of the living.
Before the week is up, Orphios and Niamne must outmaneuver the treachery of townsfolk and outwit the rules of the gods before the dead take matters into their own hands.
Book 1 of Strange Magics: Slake your craving for gothic fantasy romance!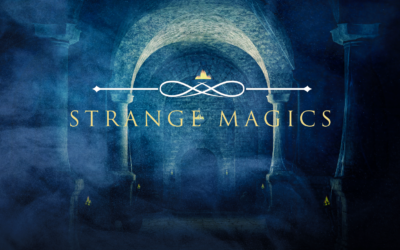 "Presentation" If I go any further down, I'm going to be going uphill on the other side of the world. Niamne's legs ached from the downhill trek. Her fingers were sore from grabbing onto the cart through rough patches, uneven bumps, and one sharp dip that nearly broke...