Fallout: Scions of the Star Empire #2
After the scandal…there's always fallout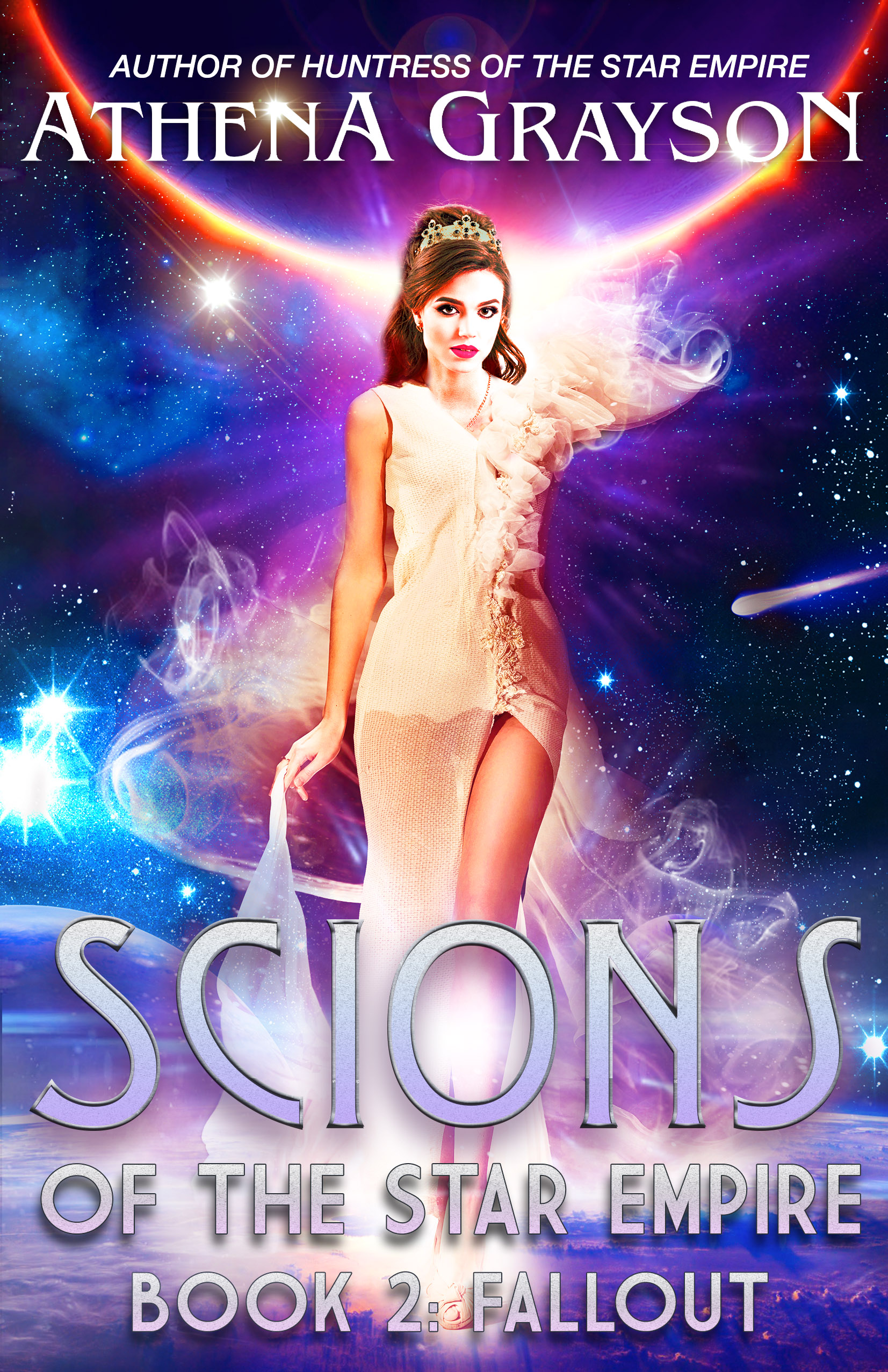 Princess Ione's reputation is in freefall and the entire Academy is reeling from Alliance bids gone wrong. She's gained the wrong kind of attention from the Cultural Trust that oversees all the alliances between Houses, she's forbidden to see Den, and the gossip feeds are worse than ever. When her brother, crown prince Shezin, proposes that she patch up her social standing with good deeds, the party princess has to make herself over into the people's princess before her Social Capital hits the ground and leaves a crater. But a good deed is a hard sell when you're a bad girl. She's going to need all the friends she can get to pull this one off…
For Den Hades, his rising star comes with a dangerous tail. His father's rage has only grown since his one act of defiance ruined his House's chances of alliance with the Imperial House, and as Den's Social Capital edges him closer to achieving Scionhood, his father's influence peels more of Den's friends away. As his acquaintances buckle under pressure from their own Houses to choose sides, he's got to figure out who his real friends are, and find allies in the few places his father can't reach.
It's not the fall that'll kill you…it's the sudden stop at the end.
Read An Excerpt
Click the Excerpt title below to expand
Excerpt: Tattler Tales
Jaris Pulne, rumor-monger and purveyor of lurid speculations to delight the baser instincts of his feed subscribers, and indulger of every iota of jealousy buried in a populace that bent a knee to an Emperor and a nobility with no more qualification than the luck of their birth, sat in his dumpy little office and watched a short holo play on loop. As it looped, the image resolved to higher and higher resolution until it clearly displayed the pair of young lovers caught on the holo-cam.
Though poorly-lit, the images bore frames that unmistakably identified the owner of the pair of exposed breasts. Although she wore no coronet, his readers would readily identify her as the subject of about eighty-five percent of his feed headlines, and a hundred percent of the highest-grossing ones.
Scratch that, he thought. Ninety-nine point nine percent.
Once upon a time, there was a princess whose every command was heeded. She had all that she wanted, was praised and was flaunted, but was kept from that which she needed.
On another portion of the workdesk, a second holo looped. This one of a young man, standing up to an imposing older one who carried himself as if all that was given to him had been taken. Pulne shook his head as the young man—barely more than a boy—stood ground against a will that was almost palpable, even from the holo.
The loop was set to slow at the moment the man stepped towards the younger version of himself—except for around the eyes—and the younger man lifted his hands to push back.
The dull crimson flash could have been anything—an artifact from the neural's recorder, stray photons corrupting the data. It could have been anything, except it wasn't.
But he wasn't quite ready to say it was. Because while he was used to ferreting out and exposing the tawdry secrets of the nobility, this was a sight more than tawdry. Once upon a time, there was a handsome young lord, who lived by his wits and twirled a tin sword. But his father's wrath put blocks in his path, and against itself their House warred.
He turned back to the first holo and wondered why he still sat on it. After three feeds speculating on the princess's emotional state, her newly-unstable marital prospects, and whether or not her emotions were manifesting in her eating habits, the news cycle should be ripe for another Princess Ione scandal. Too much skin, too much indulgence, too little supervision—the perfect blend of wealth and tram-wreck the public adored.
Only this time, the news cycle didn't feel right.
Pulne had gotten this far on instinct—although to be fair, his current place wasn't a place even he wanted to be—and he knew how to read a feed's pulse.
His assistant, Kella, sent him a number of messages in the past week. Is it time yet? Is it time yet?
Each message came back with his own admonition. Wait for it…wait for it…