I know, you're thinking, "That better not be snow she's talking about!" Haha, yeah, I know. There were snow flurries last weekend not too far away from me and that's freaking ridiculous, but no, I'm not going to get Mother Nature any more punch-drunk than she already is. I'm talking about Flurries Of Activity. Specifically, book activity. Specifically, MY book activity.
Strange Magics
I just released a new book in a new series on a new platform. I know my sci-fi readers are waiting patiently for the next installment of Scions, too. The Strange Magics fantasy romance series kicks off with The Dread Lord's Tithe as a Radish-exclusive. It's something I set in motion several months ago while I was dodging falling pianos–I had the book ready to go for another project that fell through and the platform popped up on my radar. The pre-launch required minimal effort–just some formatting–and it was something I could do in the middle of mad housecleaning, getting rid of a lot of old junk I'd let pile up way too long, and fixing minor house repairs. Now, speaking of Strange Magics, I'm doing a little strange magic of my own to promote it. I've gone in with a handful of other Radish authors and we're doing a Radish Coin Giveaway! We're giving away 200 Radish Coins in our contest (coins are what you use in the Radish app to purchase episodes or chapters of your favorite stories and it's how us authors keep our kitty overlords in catnip when you read). You can enter by clicking here on the graphic below. And a special shout-out to our friends at Romancing the Dragon for putting the giveaway together. Good luck!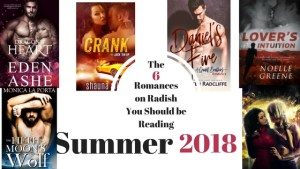 Scions
But in the middle of all that–or I should say, as the bulk of the house work wrapped up–my fingers got itchy again and this time, I knew the path I had to take with Fallout (Scions book 2). Now, weird as it is for me to be working in a clean, uncluttered house (a clean desk is the sign of a sick mind, LOL), Fallout has fallen into place and I'm about ready to put up a pre-order link. It's later than I'd hoped, but I'd rather be late than half-assed. I confess it's a little scary–I had to rip this book apart once and put it back together, and for a person who writes continuing series, that can have…repercussions. But I'm glad I did the hard construction work, because it's a better book for it.