I've been tagged by author Zoe Dawson to participate in the New Year's Blog Hop this week. I've never done a blog-hop before, so already my calves are getting tired…
So the purpose of the blog hop is for us authors to reach out to new readers (always a favorite activity–I embarrass myself at parties talking about great books I've read), and for readers to discover new authors and stories you may never have heard of. When Zoe poked me with ten questions, I thought it would be fun to go ahead and answer them about my current WIP, especially as it's one of those special "Books of the heart" that happens to an author sometimes–when you really, really fall in love with your characters or your setting or your premise, or you have a deep connection with what they're going through. Or in some cases, it's Fiction Because It's Cheaper Than Therapy.
So without further ado, on to the questions:
1. What is the working title of your current/next book?
I always feel bad when talking about WIPs at parties, because everybody wants to know the title. My title is often the very last thing that comes to me with a story. A story's title is as much marketing decision as artistic decision, and if I'm working on a story, I'm not in marketing mode. So I work with working titles that seem to capture the essence of a story or character to keep me focused. My current WIP's working title is WinterJacked.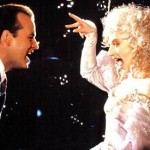 2. Where did you get the idea for that book?
A little over a year ago, I turned 39. Being good with numbers like I am, I realized that after 39 comes 40. I knew I couldn't be the only person for whom the "40 fairy"  resembled Carol Kane in "Scrooged" — and acted much the same way, right down to the upswing with the toaster. So then I got to thinking about how turning 40 in Hollywood sort of rules you out of being a hero (or especially a heroine), and realized that not only is it unfair (news from the land of "duh" I know), but it was also untrue for many of us. I realized instead that 40 is about having a pretty big choice in your life. Somehow fairies got mixed up in it and I ran with it to my Happy Place (which is a place where a lot of fictive tropes get subverted) and there I met my hero.
3. What's the genre of the book?
If I got to choose, I'd say it was a Life Comedy (which is redundant, because life is a comedy) with Strong Romantic Elements. If I had to pick, I'd call it a romantic comedy with magical realism.
4. If you could pick actors to play the lead characters in your story, who would you pick?
My male lead, Jack, is something of a puzzle. Best I can picture him is if Anderson Cooper and George Clooney had a baby with slightly crooked front teeth and an unrepentant grin, Jack would be it. Prematurely gray did not begin to cover it, as his hair's gone completely silver-fox white. But the hair's the least of his problems. After his mother's lingering terminal illness derailed his focused "life plan," his marriage crumbled, and his life took a left turn at weird, it's his old college friends–the people he most wants to hide his failure from–who might be his only lifeline, just when he thinks his life is over.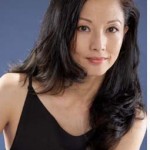 Without a doubt, my female lead is Tamlyn Tomita. Lin, my female lead, is half-Japanese and straddling cultures has not gotten any easier for her in 39 years. She'll have to confront the cultural expectations she's always rebelled against, and the family secrets that have lurked beneath the smooth surface of her unflappable matriarch of a mother to learn the truth about the inexplicable changes in her body. And she'll have to choose how far she's willing to go for a second chance at happiness.
5. How would you describe your book in one sentence (10 words or less)?
Ten words? Only ten words? But there are so many words to play with!
You think your mid-life crisis is bad? Jack's is downright unreal.
6. a. How will your book be published, submitted through the traditional route to a traditional publisher or will you be handling it yourself through Indie Publishing methods?
That's currently up in the air. Right now, I'm enjoying the freedom of independent publishing on my own, and my assessment of traditional publishing is that it's in too much flux right now for me to be confident that they'd be able to properly utilize the rights I would sell them in a traditional publishing deal. But the book is still in process, and publishing changes so very quickly these days that it's hard to say.
b. If you're an Indie Author, will you be publishing through your own Indie Publishing company or in a collective with other Indie Authors?
My indie-published works are done on my own. Author collectives are in their infancy and it seems like a viable method of publishing once some best practices have been established.
7. How long did it take you to write the first draft of this book?
It took me 11 months to write the "first draft" (because my drafts are very messy and I'm a "discovery writer" so often early iterations of the story are nothing like what ends up being the final product).
8. What other books within your genre are similar to yours?
That's a toughie. This book is a new direction for me, and it does a lot of genre-bending, mixing in elements that are found in romantic comedies, contemporary fantasies, and slightly satirical geek-lit, yet it doesn't fall firmly into any of those categories.
9. Who or what inspired you to write this book?
Being the heroes of our own stories. Confronting the age when everyone simultaneously begins to ignore you (especially if you're a woman) while firmly believing that you are the demographic that runs the whole damn world.
10. What about your book will pique the reader's interest?
Everyone faces a Big question some time in their lives when you have to decide whether your life is already half over, or only half over. And whether you want to direct your own "Life, Act Two" or just be a bit player, making the same mistakes you did in Act One while your own story runs out the clock to the final curtain.
Thank you to Zoe for tagging me. This was a lot of fun, and a little scary! Like I said, this book is close to my heart and this is the first time I've trotted out the concept for general public consumption. Tell me what you think in the comments!
The other authors in this round all have fun blog hop posts, too, so be sure to check them out:
1/2: David Russell
1/1:  Jen Talty
1/2: Sydney Jane Baily