Thank You!
[et_pb_section bb_built="1″ admin_label="section"][et_pb_row admin_label="row" background_position="top_left" background_repeat="repeat" background_size="initial"][et_pb_column type="4_4″][et_pb_text _builder_version="3.3.1″]
You're In!
Welcome to the private readers' group. I'm so glad you're here! Connecting with readers is one of the most important–and most delightful–aspects of being an author. I count myself lucky every time I get the chance to connect with a reader, so you're invited to contact me anytime via email at huntressATathenagraysonDOTcom, or through Facebook or Twitter, or at the handy-dandy contact form right here on this website. Without further ado, let's get you your free book so you can start reading!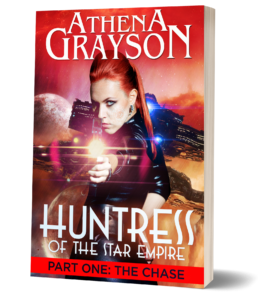 [button link="https://dl.bookfunnel.com/937uqw0qjh" type="icon" color="teal" newwindow="yes"] Download my free book![/button]
"Please inundate me with spammy sales pitches," said No One, Ever.
I want to take some time now to let you know what you can expect from me. Spammy sales pitches make Athena uncomfortable, and Athena gets nervous at contacting people more than a few times a month unless it's really important. So I when I contact you, it'll be because I have found something that makes me go, "Squee!" and I think it might make you go, "Squee!" too.
I usually retail my full-length books for $3.99 or $4.99. When I'm ready to put up a pre-order or launch, you will be among the first to know. You'll also get exclusive sneak-peeks at new stuff I'm working on that I don't show anywhere else. Extra side-stories, bonus scenes, or artwork–you'll see them here, first. You'll also be the first to know when I'm opening an ARC (advance review copy) group for a new release–this means you get first crack at reading my new releases for free.
I won't attempt to replace Bookbub in your heart or your inbox, but I occasionally contribute to group specials with other authors I respect. Sometimes these specials are only available to group members. It makes me happy to know that I'm helping you learn about a deal that's not available anywhere else. I also run giveaways as a thank-you to my readers for all your support. Some of them are pretty big, like free kindles, and I'd be remiss if I didn't let you know about a chance to win a free e-reader.
If we don't share our excitement over good sci-fi media, it'll get canceled and break our hearts, leaving us orphaned and desperate fans who didn't support good TV/movies/games/etc. when we had a chance–so don't you be afraid to let me know about new stuff you discover, too–we have to share! That also goes for real-life science discoveries big enough to make the news.
If all this sounds good to you, then stick around! Once again, download your free books at the link above. If you have any questions or technical problems, please contact me right away and we'll get that sorted out.
Warmest regards,
Athena
Get To Know The Rest Of The Series

[/et_pb_text][/et_pb_column][/et_pb_row][/et_pb_section]