If a tree falls in the forest and there's no one around to hear it, does it make a sound? If an ebook hits a virtual shelf and no one knows about it, is the story told?
I know that most readers don't give a scoop of kitty litter about "the market" or any of the technical, behind-the-scenes industry jockeying that's going on–they want good books at reasonable prices in whatever their favorite reading format happens to be. And I also know that as writers–especially those of us who've chosen to go it alone–we need to pay some attention to those things readers don't care about, in order to get them the things they do care about–good books at reasonable prices in their desired formats. What that all boils down to is simple–Finding Your Audience.
There are many bloggers out there with large followings who are Social Media Experts. They're experts at Reaching Your People, Finding Your Tribe, and Creating Your Community. They have better advice for tweeting, facebooking, pinning, tumbling, goodreading, and shelfari-ing. Probably better verb usage, too. Every one of them has a story of success borne out by how effective they are in their own promotional efforts, their own visibility, sales, or comfort with using whatever their recipe for high visibility and success is.
But none of them are me. None of them are you (unless you are one of them and reading this blog, in which case, Hi! And Wow, somebody with as many followers as you caught my little ole' post? Squee!). I follow the Experts as much as I can. The vast majority of their advice is not only sound, but friendly and delivered with a genuine desire to help and pass on knowledge. None of it is a magic bullet guaranteed to rocket you into the stars or onto the bestseller lists. 99% of it will certainly help you out on the way, but there are two very individual components that no one else can do for you.
No one else can write your story but you, and no one else can be your reader but your reader.
If you're spending a lot of time on facebook or twitter, if you're tinkering about with pricing and promo giveaways, and if your numbers are down, your book has not yet found its readers. It may not be because those readers don't exist, but it may very well be that they're not in the places you're looking, even if those places are all places everyone says you need to go.
Start with the personal–where do you find your reading material? What are the places you are most comfortable spending your time? What kind of reaching out works on you? Populate your book world with the readers you're trying to reach. Give them opportunity and time to find you.
My short contemporary romantic comedy, Forever Material, is about a Dating Diva who finds the right kind of Mr. Wrong. It's on Summer Sale for $3.49 at the major retailers.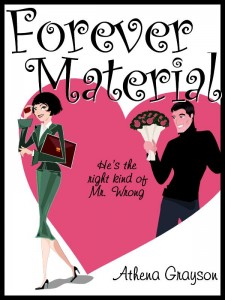 She's absolutely sure he's not the marrying kind…
He's absolutely sure she's right…
But he's still going to prove her wrong.