Unless you're getting this in feed/email form, you'll probably notice there have been some changes around here. I've re-decorated the blog to be clearer, more versatile, and a little more professional. Let me know what you think in the comments!
Besides redecorating the blog, I've been thinking more about settings, and how redecorating a scene with a different setting may be just the thing to get you back on track with a stuck WIP, or shoot an average scene into the stratosphere.
The Inside/Outside Game: Setting a scene inside gives you a different tone, mood, and space to work with than setting a scene in the great outdoors. Cramped rooms can add to tension or provide the reader with a sense of perspective based on what the characters are feeling through showing the room via the mood of the scene. Outdoor scenes can lighten an otherwise too-intense scene with the space afforded in an outdoor setting, or provide additional layers of conflict via Mother Nature.
You Are Where You're At: Spaces don't just define activities, they also can define people. How a character uses a space, dominates it or blends into it, speaks volumes about that person.
Change Is Good: Transitioning scenes are always a source of awkwardness for me, especially if the next scene happens in the same place, after a little time has gone by (which frequently happens in my stories as I like to keep the characters from having to run all over the planet). But they don't have to be, when the setting itself can change. Outdoor scenes can change in the weather, while indoor scenes can demonstrate the passage of time and the changing of tone with subtle cues such as lighting or moved accessories.
I redecorated my blog to help me become more organized and proactive as I move through the world of indie publishing. You can redecorate your scenes with a change of setting to do the same.
I write about quirky people finding their own ways of leveling up to happily ever after. My short contemporary romantic comedy, Forever Material, is about a Dating Diva who has to choose how much romantic baggage she's going to hold onto when she meets the right kind of Mr. Wrong.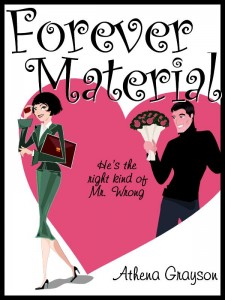 She's absolutely sure he's not the marrying kind…
He's absolutely sure she's right…
But he's still going to prove her wrong.