School is winding down for us and the countdown is in the single digits. Some people send their kids to camp, others have their kids in spring and fall sports. I figure if I'm going to have them home all day, all summer, then by Dog, we're going to do something crazy-inventive. Last year it was Solar cooking (this year, we have a better prototype, and we're expanding). This year, it's Home Improvement. No, not for the house–for the Tree House.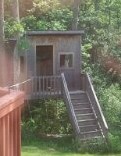 Mr. Athena is something of a hobby engineer, and when we moved into our house, he immediately got to work on an epic tree house. This thing is more solidly built than the real house, and it's nice-looking, too (architectural 25-year shingles on the roof, studs 12 inches on center instead of 16, three-tree footers, cedar trim). One of the main reasons we started on a tree house before we had other things (like grass or landscaping) was because of what a tree house means. Not just for our kids, but for anyone who's ever had a tree house or a special place.
A tree house is a home base, a safe haven, and a world of your own. There's a reason why kids build tree houses and it's because they aren't actually necessary structures. They're certainly mostly not sound (although ours rode out a hurricane and several windy seasons with no problem). Tree houses are a Special World, where someone who may not have a lot of control over a lot of their life can exert control over the world of the tree house. Tree houses are sacred spaces, free from the judgement of anyone not invited in. Free from the strictures and limitations that say imagination must be productive, or that dreams must be realistic.
One thing the Occupy movement has done is it's shown the world how people can come together outside the normal channels and create, at least for a time, a different picture of the way things are. In New York, Occupy had its own library, kitchen, media center, security, and sanitation detail (and I got my information from the front lines, not filtered through the news who were all looking for an Angle). Plus, it had power. Even before the park rules said no more gas generators, the clever folks at Occupy Wall Street set their minds to ways to bring the power they needed to the encampment through other, more sustainable means.
Bike Energy at Occupy Wall Street, Oct. 2011
Think what you will about the movement, or the main messages coming out of it, but if you can't or won't see the unfettered creativity coming out of a situation where people are deliberately breaking down the restrictions on their imaginations and dreams, shut down this blog and go outside and make a dandelion wish, because you need to remember what it's like to think outside the box. It's that kind of thinking that moves the world, and it doesn't have to be at a protest or in a special lab somewhere.
This summer, I'm giving my kids their own Occupy movement in the backyard. I can't wait to see what they come up with.
I write about quirky people finding their own crazy paths to happily ever after. I can't wait to see what they come up with, either. My short contemporary romantic comedy, Forever Material, is about a Dating Diva who keeps breaking her own rules when it comes to Mr. Wrong and Mr. Right.
She's absolutely sure he's not the marrying kind…
He's absolutely sure she's right…
But he's still going to prove her wrong.