Last updated on February 5, 2012
You have time-wasters in your life. We all do. Especially those of us who are parents. Some of those time-wasters call us "Mom" or "Dad" and some call us "Honey." Leave those ones alone, they'll never be tamed. You didn't marry/have them for their domesticity. 😉 But there are other time-wasters in your life and they can (unlike The Dawdler who must not leave the house without her activity kit and a snack, or The Plugin who cannot venture forth without his handheld game) be tamed. Chances are, you have some version of the following five sucking up time in your household.
The Culprits: 4 Time-Wasters, And How You Can Tame Them
Transit Time
Getting from Here to There and Back Again eats up a lot of our precious moments. Americans spend about a third of their lives (and eat 40% of their meals) in the car (which makes me wonder why they haven't come out with a mini-van yet that has a refillable ketchup dispenser). A little road-mapping and pre-planning can save you a nice hunk of that by combining your trips. You're going to have to get the kids into the car anyway, you might as well schlep them multiple places. ProTip: You may want to be there for every moment of your kid's soccer practice every time, but if you really want to use your time more wisely, it might behoove you to carpool or trade off with some teammates' parents. After all, you are including your own goals on your to-do list, aren't you?
Mental Meal Misanthropy
How much brain power are you putting into each night's dinner? And do you really want to spend that much of your life standing in front of an open fridge or freezer and wondering what you can do with canned tuna, frozen edamame, a door full of condiments with a bare scoop of stuff left in the bottoms, and two onions (the answer is an eclectic tuna salad, if you're wondering–and be sure to call it "eclectic" so it sounds "gourmet" instead of "desperate"). If you're not menu planning, you're not only wasting time and precious brain power, but you are probably wasting money and food, as well. You can save anywhere from 30% to 50% of your grocery bill if you already know what you're going to be using it for. And you'll keep from tossing out about 20% of that food you forgot in the back of the crisper that you had every intention of using for…well, something that sounded awesome when you thought of it. You'll be buying more fresh or staple foods and fewer pre-prepared foods, which saves you money on both the grocery bill and the heart doctor later on. And if you know what's on the menu, you'll have more time, energy, and more You to spend eating it with the rest of the family.
Busywork
Ever notice how "busy" people never get anything done? It's because "busy" doesn't always equal "making progress." How much "busy" work are you taking on? Is your to-do list full of things that make progress towards your goals…or is it just full of things? We all have those responsibilities that just won't go away and don't seem to "make progress" like laundry and kitchen duty–I'm not talking about that. I'm talking about what you know is busywork–if you're stacking your paperwork and moving it from one pile to another, you aren't making any progress on your paperwork, are you? You're moving it around instead of deciding what to do with it. This busywork eats into your schedule, especially if you try to wedge it in between other tasks. You're better off scheduling a half-day to clean off your desk (including dispensing with the paperwork) and devoting time to the larger task that actually accomplishes something.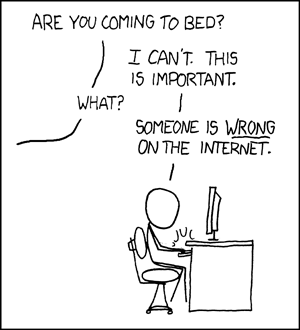 Internet Warrior Training
If you've got actual time to sit down at the computer, there's no quicker way to sabotage your computer time than with internet warrior training. We all have social networking obligations (or at least feel like we do) and websites we visit for a laugh, for information, or for inspiration. But it is very very easy to be tempted to seek out online excitement. And in the digital agora that is the internet, excitement usually comes in the form of drama. Nothing can be more stimulating than stumbling upon a heated online discussion about a subject you feel strongly about or you have extensive knowledge of. Of course it is vital that you jump into the fray, because…well, the graphic pretty much explains it.
But you are not the Internet Police, and all that time spent Googling your facts and/or baiting the trolls is accomplishing nothing but a spike in your blood pressure. The conservatives/liberals/Patriots fans/Giants fans/confederates/yankees/tastes great/less filling yahoos are not going to go away–it's their internet, too. It can be satisfying to join a pile-on, or defend the underdog, but how does that advance your career or tick off an item on your task list? Answer: it doesn't.
Set your timer for online "fun stuff." Aggregate your blogs into an RSS reader or have them emailed to you. Ask yourself if your daily rounds on the internet are actually moving you towards your goal. If you're spending most of the day in places that aren't moving you forward, consider visiting by the week instead of by the hour.
Work Smart
Your time is precious. Make sure you're spending it on activities that are important. Knowing what really matters in life will come through in the work that you do and the connections you make with others.
—
My short contemporary romantic comedy, Forever Material, is out now! Please check it out!
NEW! All Romance Ebooks
She's absolutely sure he's not the marrying kind…
He's absolutely sure she's right…
But he's still going to prove her wrong.