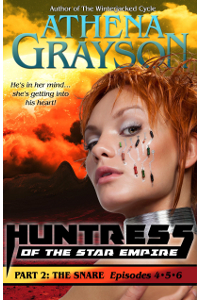 She's bound his hands…now she's working on his heart. Crash-landed on a remote moon, on the run from space pirates and planetary insurgents, Treska must rely on Micah and his underworld contacts to help them both survive. But the moon's peculiar atmosphere wreaks havoc on Micah's mental talents, mixing memories of his lost lover with his current captor. Can Micah protect his enemy from his allies?
About the Book
***THIS BOOK IS A BOXED-SET BUNDLE OF EPISODES 4, 5, AND 6 OF "HUNTRESS OF THE STAR EMPIRE"***
–Episode 4: Hard Landing
–Episode 5: Crystal Dreams
–Episode 6: Unknown Horizons
About the Huntress
Ever since she was found in the aftermath of alien attacks, Treska Sivekka has been trained to one purpose–to hunt down threats to the security of the Union that gave her an identity. But when the Union's biggest threat inspires desire, and not fear, it's going to take all her training to protect her principles against his persuasive onslaught.
The Huntress's neuro-collar and repulsor cuffs may keep Micah bound to her mercy, but they can't stop him from challenging her convictions, and the lies she's been told about his people. But when the secrets surrounding her own missing memories begin to reveal themselves, he may be the only one she can trust.
"Huntress of the Star Empire" is a sci-fi romance series adventure. For more about the series, sign up for the newsletter at http://bit.ly/AthenaNews
Other Books in "Huntress of the Star Empire"